GCH CH Jazzman Gunpowder And Lead
BN RE NAP NJP SWE SCAE SIAE SEAE SCM SIM SEM
SHDN RATO CZ8B CGC TKA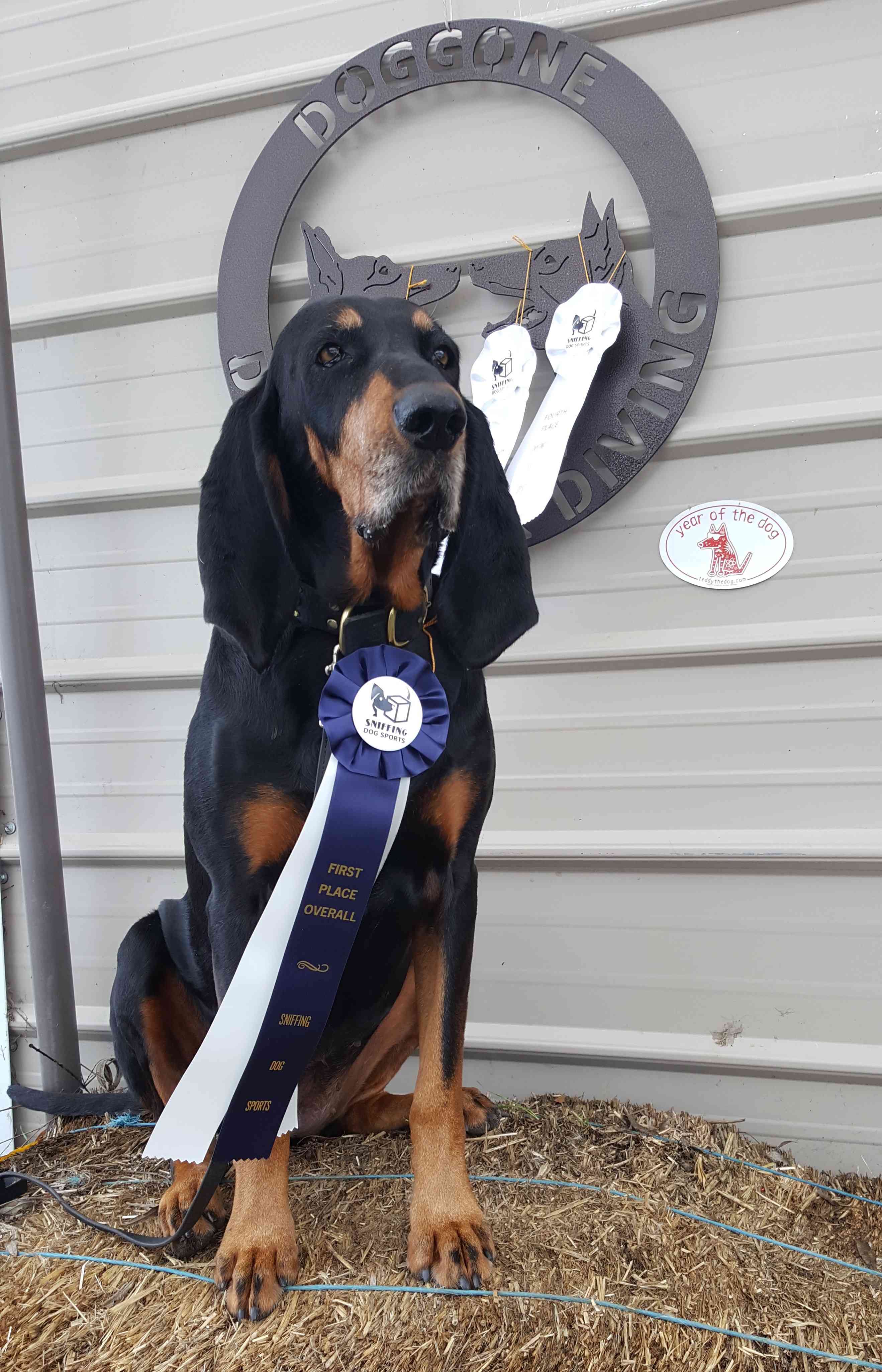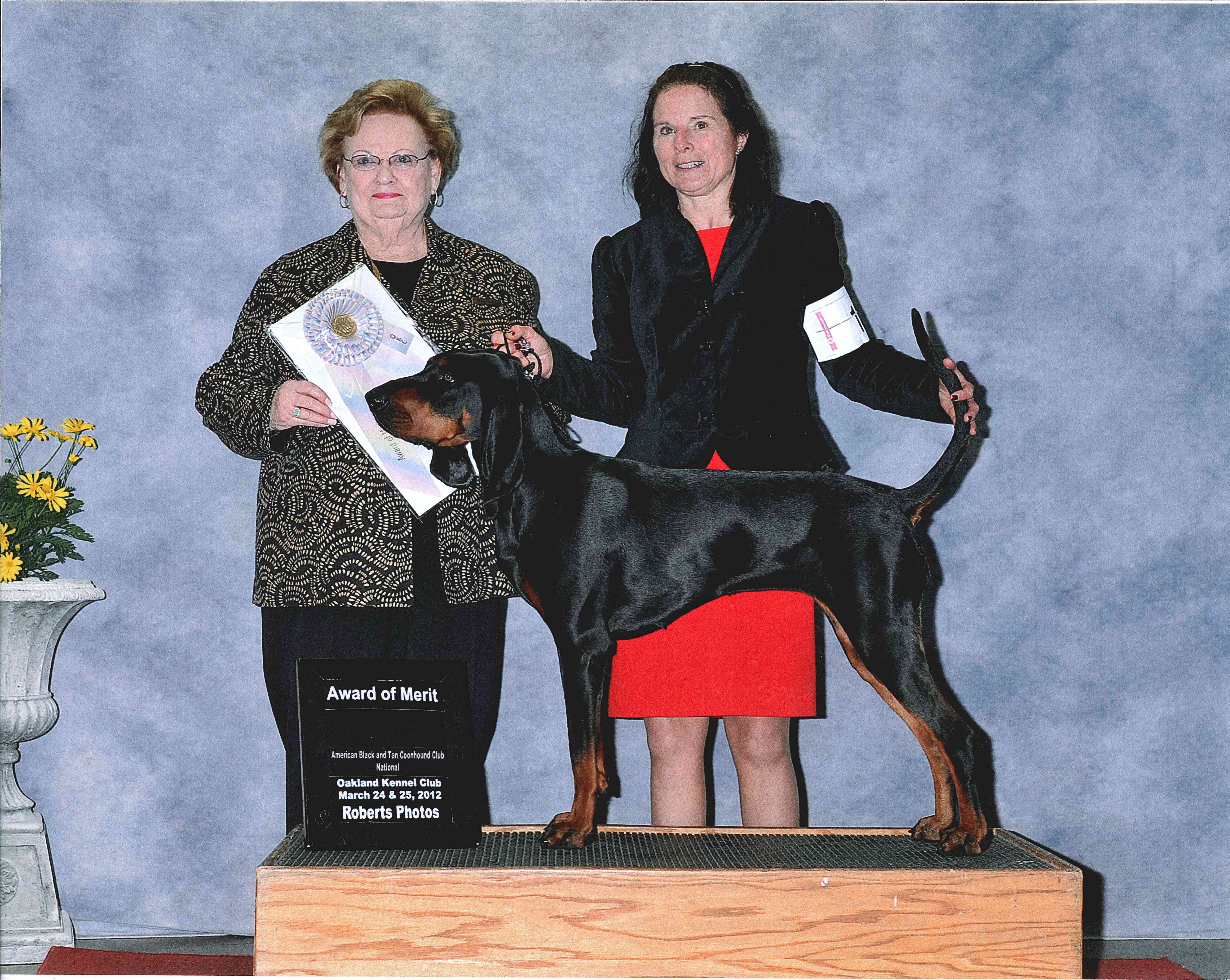 OWNERS: Teresa Locatelli
BREEDERS: Zoe Bolin
CALL NAME: Squish
8/31/10 -

Squish has titles in conformation, obedience, rally, agility, barn hunt, scent work and tricks. In 2013 she was ranked #2 Black and Tan Coonhound in obedience, #1 Black and Tan Coonhound in rally and #2 Black and Tan Coonhound in agility becoming the first dog to place in the rankings in all 3 events in the same year.

Squish got her first conformation point in May 2011 at 8 months old and finished her Grand Championship at the 2012 National Specialty cluster going Select Bitch where she also earned her first Rally Novice qualification. On the day of the National Specialty she received an Award of Merit. She finished her conformation career at the 2015 National Specialty going Select Bitch. All of Squish's points were owner handled.

Squish and I traveled to the 2013 National Specialty and she competed in conformation, agility, obedience and rally. She completed her Rally Advanced title there making another special memory. In October 2014 Squish and I competed in the Cynosports World Games in Rally and Barn Hunt where she earned her Rally Level 1 title with an Award of Excellence. Squish is the first Black and Tan Coonhound to earn the novice and open titles in barn hunt. While participating in Crazy 8s where there are 8 rats hidden, I learned Squish could count! She would find three rats and go to the exit gate and be done! She became the first Coonhound (across all coonhound breeds) to earn the Crazy 8 Bronze title.

For years Squish was an agility demo dog at our local fair. She loved the fair as most kids have food and were willing to share with her. She earned her AKC Novice Agility Preferred Jumpers and Standard titles. She also earned agility titles in the Australian Shepard Club of America and Canine Performance Events. She has three trick dog titles and was the first Black and Tan Coonhound to earn the Novice Trick Dog Title.

We started competing in scent work in 2017 and in December 2020 she became the 16th dog in the United States to earn the AKC Scent Work Detective title. Along the way she has earned several all breed High in Trials. While competing at a Sniffing Dog Sports event at the Excellent level she was the only dog in an all-day competition that qualified in all the elements.

All that said, I believe Squish's favorite sport is pheasant hunting and she even retrieves them! Squish has been a great partner on this adventure, and I have grown to love her for who she is. I count on her to be a quiet presence in my life when I need her, and to know at heart she is a naughty hound dog who will climb a chain link fence to go chase something or counter surf a whole chicken.
Page created 6/22/2022 by esa